Saddar is located in the historic downtown area of Karachi. It has a high concentration of civic, education, cultural and commercial uses, and a large number of daily visitors and passersby. Subprojects in Saddar downtown area includes:
Upgrading roads, streets, sidewalks, and pedestrian crossings within existing rights-of-way (ROW)
Upgrading existing open spaces, installing shade features and removing barriers for visitors
Reorganizing traffic patterns and closing certain street segments (temporarily or permanently)
Installing signs, street furniture, lighting, and bus stop shelters
Organizing parking and installing safety barriers to reduce vehicular encroachment on sidewalks and enhance safety
Rehabilitating infrastructure and storm water drainage beneath roads upgraded by the project
The overall Project area for Saddar Down Town covers about of 2.0 Sq. Km.
Education and Cultural Zone – Year 1 Sub-Project under Saddar Down Town Revitalization
Project Boundary:
The year 1 / phase of Saddar Revitalization project is named "Educational and Cultural Zone". It forms a triangle including:
Dr. Ziauddin Road Road (from Shaheen Complex to Pakistan Chowk)
Deen Muhammad Wafai Road (from Arts Council to Pakistan Chowk)
MR Kyani Road from Shaheen complex to Fawara Chowk/Arts Council Chowk.
The Shara-e-Kamal Attaturk (from Sindh Secretariat gate to DJ Science College) – an intermediate connection between Deen Muhammad Wafai and Dr. Ziauddin Road is also part of the project.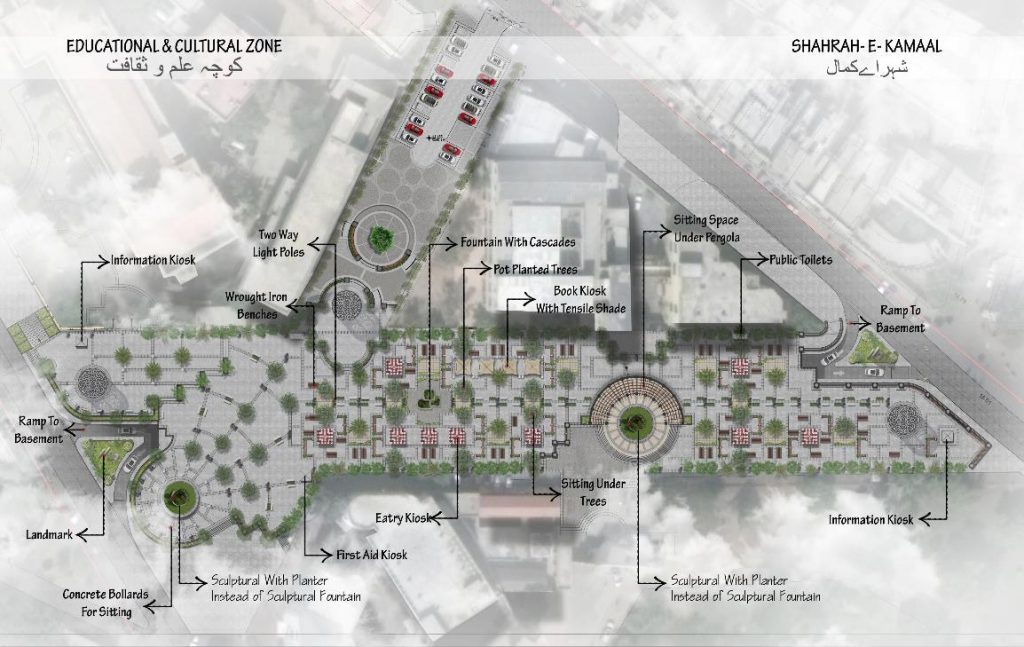 Proposed Interventions:
The Educational and Cultural Zone houses a number of educational institutions such as NED University city campus, DJ Science College, SM Art College, SM Law College and Government Science College. The zone also an epicenter of cultural activities – courtesy of presence of National Museum, Burns Garden and Karachi Arts Council, as it offers a natural place for the development of art and culture and this quality can be further accentuated with the proposed intervention.
At part of the first phase of the year one of the project, following specific interventions are planned:
a) Two levels underground car parking facility with public space / piazza on ground floor at Shara-e-Kamal Attaturk.
♦ Two Levels of underground car parking of 10000 sq. m to accommodate a total of 400 cars and 600 bikes developed on international standards. This intervention will greatly alleviate the congestion caused by the haphazard street parking as it caters for existing and projected demand of parking for Sindh Secretariat, Educational institutes, Museum, Neighborhood and Commercial areas
♦ The ground level of Parking Facility will be developed as public space / piazza for education and cultural activities with access from adjacent buildings. This will facilitate thousands of students and visitors in the area with state of the art seating arrangement with proper landscape features, and spaces for various outlets including food kiosks and book stalls, etc.
b) Rehabilitation of M.R Kayani Road, Dr. Ziauddin Road and Deen Muhammad Wafai Road and Widening of Side Walks/Footpaths
This includes:
♦ Widening of sidewalks/footpaths upto 16'-20', by retaining the existing large-sized native trees on the median/sidewalks, otherwise free of any obstruction
♦ A 6ft cycle track to run throughout the project area separated from the pedestrian traffic as well as vehicular traffic with the help of bollards and guard rails on intersections
♦ Provision of crosswalks near the intersections or the property entrances with the facility of pelican crossing for the pedestrian safety
♦ Facilitating the pedestrians with waste bins, seating furniture, and illumination
c) Shaheen Complex Intersection/ Arts Council Junction and Pakistan Chowk Junctions
♦  Mid-blocks / islands are provided for convenience of traffic and pedestrians
♦ The junctions will be provided with guard rails on the edges to prevent the pedestrians from intervening into the roads
♦ Each crosswalk is provided with pelican crossing for additional safety for the pedestrians. The use of tactile flooring is made to facilitate the disabled, there by ensuring public safety and improving the flow of the traffic
d) Development in the Arts Council:
♦ The spaces in the arts council are designed to improve the connection within the complex, focusing on infrastructural requirements with the introduction of landscape features and seating arrangements.